Our Proven Process, Produces Results
1. MEETING
Start off with a meeting involving experts from both sides.
2. PLANNING
Layout the blueprint for the execution & cost projection with deliverables.
3. EXECUTE
Start the build & implementation phase with rigorous TDD & BDD.
4. TESTING
Push the build for UAT and prepare the final run for the deployment.
5. DELIVERY
Deliverables deployed on production environments, and we enter in ongoing support & maintenance phase.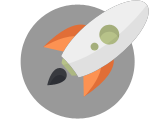 We're Here To Help Your Business Take Off!
Through Creative Ideas, Innovation & Sheer Determination
We Provide Solutions For Your Everyday Challenges